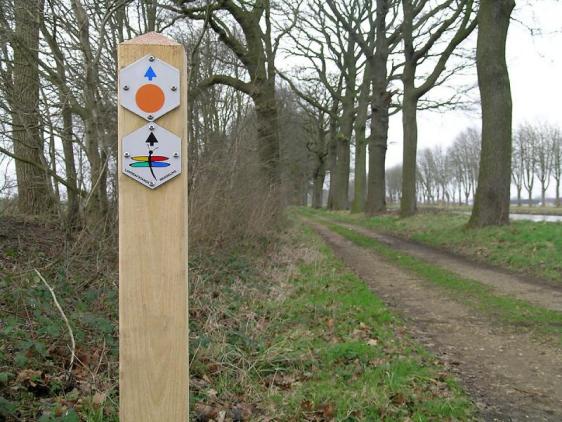 How?
All hiking trails in Kempen~Broek are signposted in the same way. You will cross the national border unnoticed. Hiking trails start at a starting point with parking and starting sign on which the trails are marked. The trails are loop-shaped, which means that you arrive back where you started. You can walk all loops in both directions.
How to recognise a loop?
By its colour and corresponding shape, for example, an orange ball or a red triangle. These are repeated throughout the walk on wooden posts so it's easy to follow them. As some loops overlap, you can easily switch to another loop! The distance of loops is always mentioned on the starting sign and on the hiking map. With a hiking map, you are more informed about the area and you can see where you are at all times. That's handy if you want to switch to another loop at any time.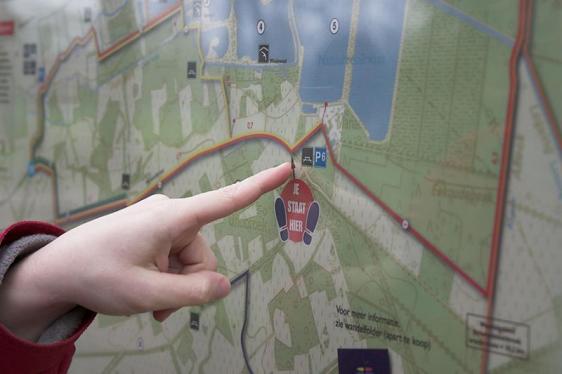 Are there any junctions or hiking switches?
Of course you can also combine different loops. To facilitate this, we numbered the places where two loops cross or touch each other. By means of this number, called a hiking switch, you can easily see on the map and on the ground where you have to change loops. This way, we combine the two advantages of both systems. People who just want to make a nice walk, follow the loop and don't need to worry about anything else. Experienced hikers who want more of a challenge, use the switches and can easily string loops together.
Where to start?
Look up each hiking area for an overview of the car parks.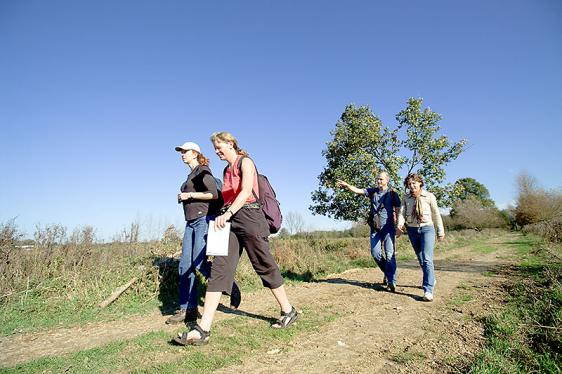 What's in the hiking box?
Would you like to have all the hiking maps of the GrensPark Kempen~Broek in your possession? Then our hiking box is a must. You only pay € 18 instead of € 30 if you were to buy the tickets separately. You can buy the box in the webshop (€ 18 excl. shipping).
Can I also walk long distances?
If you like a brisk walk, then the long-distance hike may be what you're looking for. It is 104 K in total, but you can choose short cuts in different places. You can buy the map with the full long-distance hike in our webshop (€ 5 excl. shipping).
Is the dog allowed to come?
Your faithful four-legged friend is, of course, welcome in the Kempen~Broek, provided he's kept on a lead at all times.

All hiking loops of Kempen~Broek on one map
Kempen~Broek offers countless high-quality hiking loops: perfectly signposted, combinable and tailored to everyone's needs. The new regional map of Kempen~Broek combines everything the GrensPark has to offer. On the map, you will find all the hiking loops, as well as the new switches. This is ideal for hikers who want to create their own walk. You can string several loops together using the switches and discover different walking areas.
Moreover, this regional map is part of an exclusive walking box that contains the seven other regional maps of the province of Limburg. The regional maps cost € 8 each; the hiking box is for sale for just € 34.90. In short, the ideal gift for every hiker!
You can buy the box and individual maps here.