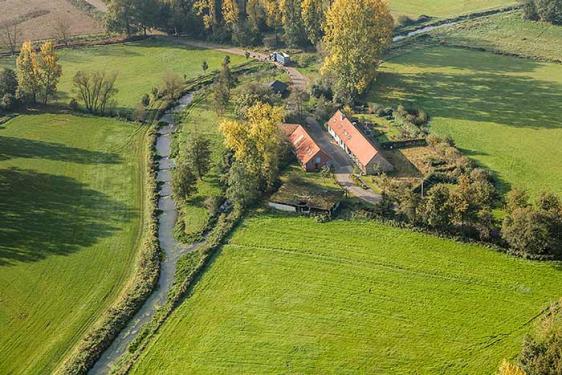 In Kempen~Broek, the historical heritage is strongly influenced by the border. Where, for several centuries, the national and provincial borders were, there was the boundary between fiefdoms from the Middle Ages. For thousands of years, the no man's land of marshes, moors and narrow passages was the backdrop for passing armies, border conflicts with neighbours and hundreds of metres of defence systems. It is the area where smuggling was elevated to an art form and where boundary posts have been known to move overnight.
It is also a region where many stories are still the bearers of history: about the infamous abduction of the abbess of Thorn, the will-o'-the-wisp in the vast marshlands and the fire threats by mythical gangs of robbers.
As a result, the landscape does not so much boast large cathedrals or castles, as it does ramparts, such as the restored 'Laarderschans'. There are also archaeological remnants of large defensive walls, such as the 'Bocholtergraven', about 20 border posts, prehistoric burial mound fields (visit a unique specimen on 'Boshoverheide'!), ruins of smuggling cafés, and beautiful chapels, including the 'Groelskapel'.
The cultural feature that most typifies the region is probably the many windmills. Once upon a time, there were no less than 28 mills along the Abeek, which was also affectionately called the 'Molenbeek'. Come and have a look at the 'Voorste Luysmolen' where a miller is still at work every second and fourth Sunday of the month.
In 2015, the Kempen~Broek 'Molennetwerk' (Mill Network) was formed in which millers, mill guides, mill owners and enthusiasts have worked closely with RLKM, the Belgian and Dutch municipalities, the tourist boards and the business community. The aim of the Mill Network is to put GrensPark's unique monumental mill stock on the map and to promote it with a view to ensuring the continued existence of this industrial heritage. More information can be found at https://kempenbroekmolens.org/.