I
In this area, you literally cross borders, between Belgium and the Netherlands, between forests, marshes, meadows and across streams.
The 'Smeetshof', together with the Dutch 'Wijffelterbroek', was once part of a large border marsh. At the end of the last century, the landscape was mined on a large scale. The restoration of the marsh was started in 2003. The nature development project 'Smeetshof' provided new marshlands, heathland restoration, pools for amphibians, wet and dry grasslands with scattered bushes. Viewpoints, bird hides and duckboard paths grant you a unique glimpse in this surprising piece of Kempen~Broek.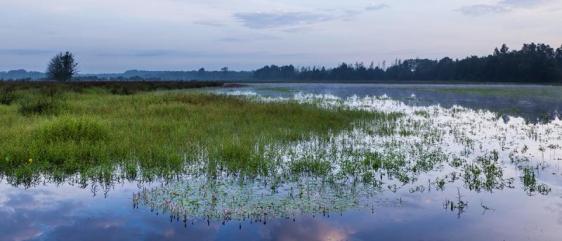 As many as seven different loops lead you along the beautiful spots in this area. You can even combine them. Join, for example, the yellow and orange trails for half a day of walking pleasure. The Exmoor ponies and Taur oxen that are a recent addition to the area are an extra asset. The trails with all the information can be found on the hiking map 'Smeetshof and Wijffelterbroek'.
Accessibility and parking
Car park 4 at the 'Smeetshoeve', Smeetshofweg I, 'end Weerterweg' in Bocholt.
Car park 5 at 't Vosseven (Lochtstraat 28) in Stramproy